We are located in Tampa's Westshore business district, just south of Tampa International Airport. This makes our location pretty convenient from all of Tampa Bay, especially Pinellas County / Clearwater / Largo / St. Petersburg and Hillsborough County / Tampa.
Tampa Hackerspace
4931 W. Nassau Street
Tampa, FL 33607
Hours
We do not have set hours when the space is open to the public. On Tuesday evenings we have a free open house where visitors are welcome. See Meetup.com for the current schedule. If that time does not work, contact us to see if we can make other arrangements for someone to meet you for a tour.
Map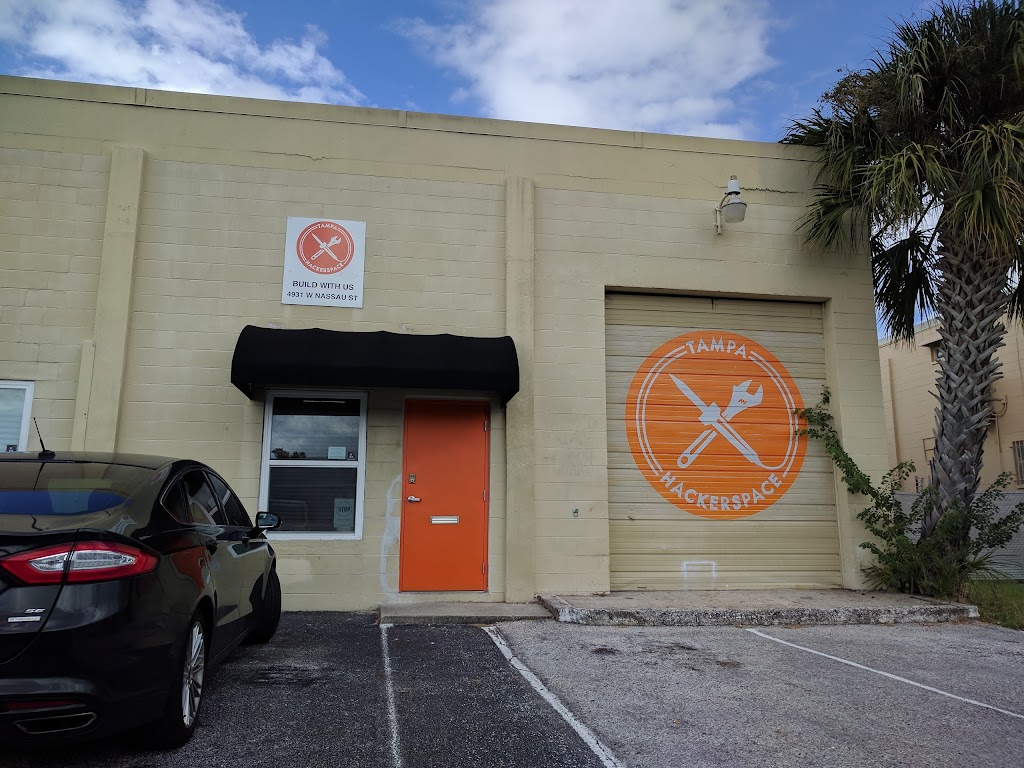 Parking
Parking is free and usually easy. Most of the time there is plenty of space in our lot.
Larger events may require using some overflow parking:
Evenings and weekends:
The neighboring businesses to the east (when facing our building, to the right) are closed at those times and they don't mind if we use their parking spaces. They do ask that we try not to block their loading docks / loading bay doors in case they have a delivery running late.
Weekdays during business hours:
We now have all of the spaces around the building. If we need to crowd in additional cars, we should double-park on the west end of the building.
Do not block access to the dumpsters on Wednesday mornings.
Do not park in the spaces belonging to the neighboring businesses unless there are prior arrangements with them.
Street Parking:
Although it is legal here, the landlord has asked us not to do it, so that should be a last resort, especially during weekday business hours when there is a lot of delivery traffic.
Caspers / McDonalds:
They are across the street and have signs posted threatening to tow so let's not test them.
Public Transportation
The closest HART bus line to our location is 10, but 15, 30, and 45 all cross Westshore and Cypress, an intersection within easy walking distance.