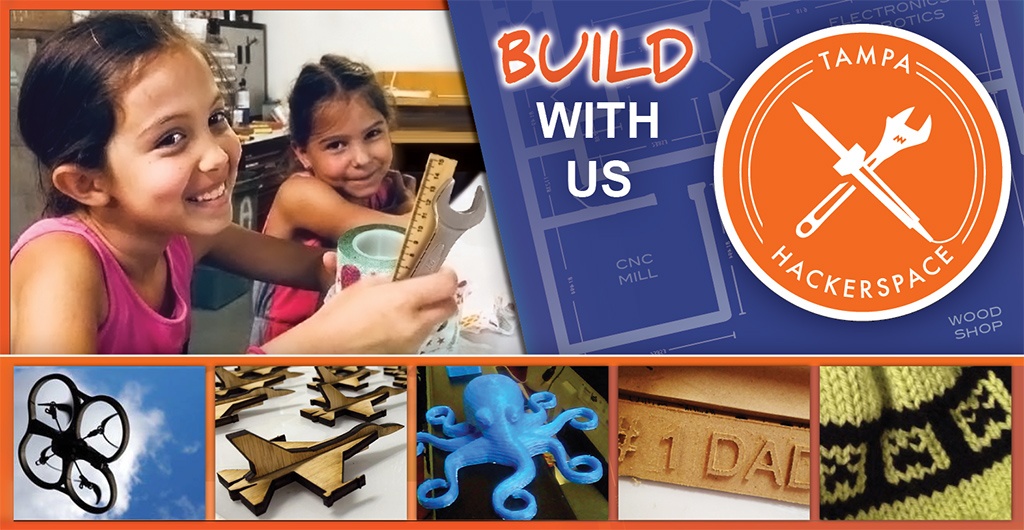 It's time for Tampa Hackerspace to step up our game. Beginning on Giving Tuesday, November 27th, we plan to raise $50,000 to improve access to our facilities for families and women, upgrade key equipment, and set the stage for long-term, sustainable growth. To support these goals, we will have to completely rethink our current space usage and expand our programming to include a broader range classes and activities. This means putting more emphasis on textiles, creative arts, and kids. It means making sure our facilities are welcoming and safe. It means finding better incentives to diversify our membership and attracting a broader range of members with skills to teach new classes.
Frankly, it's hard to believe Tampa Hackerspace only celebrated its fifth anniversary in August. In that five-year period, we've accomplished so much! Our initial membership of twenty has grown to over 150. Within the first year, we quadrupled our space. Last year, we doubled it again. We now occupy 8,800 square feet of space in the Westshore District dedicated to classes, tool shops, and more. We've held over 1,000 classes, events, and workshops. Our services impact youth, families, entrepreneurs, inventors, hobbyists, and craftspeople. The impact on the entire Tampa Bay area has been substantial and continues to grow.
All of these great things happened solely with volunteers. To this day, Tampa Hackerspace has no paid staff. There is no doubt our community is the #1 asset for our organization. Our cadre of volunteers has tirelessly worked to bring build Tampa Hackerspace into one of the top makerspaces in the United States. Today, among other things, we have a world-class woodworking shop, a first-rate electronics bench, and a small, but fully capable machine shop.
We believe we can do more. Simply stated, our mission is, "to inspire lifelong learning, advance knowledge, and strengthen our communities." The communities we target are:
Youth

Entrepreneurs

Makers and Creators
Building these capabilities has required focus and commitment. We now need to work harder to make them available and expand access to all of our tools and build skills-based classes around them to inspire everyone to do more great things.
As part of the next phase of our growth, we want to make Tampa Hackerspace friendlier and more accessible to families and women. We want newcomers and members alike to be greeted with a welcoming environment when they walk in the door. We want to expand the number of skills classes that go beyond basic safety and usage. As part of rethinking how we are using our existing space, we plan to introduce more flexible space usage to allow multiple activities to coexist in the same work areas. Doing this lets us expand our existing textiles activities, glass working and ceramics, and substantially increase the number of activities directed towards families and the creative arts.
We plan to establish a Kid Zone to allow us to ramp up programming for youth of all ages. Many of our classes are suitable for older children but our only committed events are the free, twice-monthly Kid's Open Make workshops held on select Sunday afternoons. We plan to greatly improve this.
Making plans is great but very little can happen in a meaningful time frame without funding. To accomplish these goals, we plan to raise $50,000. This money will allow us to rethink space usage for the front entry area (about 2100 square feet) on the west side of our building. This fundraiser kicks off on Giving Tuesday, November 27th, 2018 and will run through January 8th, 2019.
Here is how you can help
The first item is low hanging fruit, but is only available on November 27th starting at 9AM. One of our fundraising partners, Benevity, is literally giving away $100,000 to non-profits such as ours as part of a public awareness campaign. They are giving $10 for each retweet of their "Be the Good" video so long as the retweet references @hacktampa and includes the hashtag #BeTheGood. We could easily generate several hundred retweets. The exact rules are at https://www.benevity.com/bethegood/contestrules . Limit per charity is $50,000.
Action 1: As soon as you can on/after 9am on Nov 27th, retweet the link pinned at @benevity on Twitter. Be sure your retweet mentions @hacktampa and uses #BeTheGood.

Action 2: Ask your followers to do the same.
Beginning at 8:00 A.M. ET on November 27th, Facebook and Paypal are matching $7 million dollars raised for qualifying charities (we qualify). The matching funds will likely go quickly. Making early donations allows donors to double the impact of their contribution. For donors making large contributions, this could help us make a substantial dent in our fundraising goal. It also gets us off on a very strong start which improves the chance of meeting our fundraising goals. Donors after the 27th are more likely to contribute when they see a campaign is running successfully and believe it is likely to meet the goal. Fundraising campaigns on Facebook pay NO FEES to Facebook so 100% of all contributions go directly to support the campaign.
Action 1: If you plan to contribute to our campaign, thank you! Please consider doing so early on Giving Tuesday to secure the matching Facebook funds.

Action 2: Share our campaign on your social networks.
Unlike many other local charities, this fundraising campaign has the opportunity to make a tremendous difference to our community. Many well-known local charities have full-time fundraising efforts and $50,000 bump has a marginal impact on their overall budget. For us, these funds will be a true game changer and allows us to impact a dramatically larger audience.